Together, We Succeed.
China: Day 3 – Sunday, May 20
Written by: Casey Fuga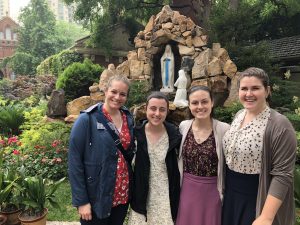 Today was full of adventures! A few of us started our day early and took a nice walk to try out some authentic Shanghai street food that did not disappoint! Later, a group of us went to Sunday Mass spoken in English at Saint Ignatius Cathedral. I was very excited to experience Mass in a different country as it was something new to me. The cathedral was beautiful as was the Mass! I was amazed at the similarities between our Mass at home and the Mass here in China. It is extremely comforting to know that even in a country across the world, the Catholic church remains the same. After Mass, we were able to take a look at a lovely Blessed Mother grotto along with some other beautiful statues before setting out for some shopping in Shanghai. The whole group of us went to the Yu Yuan Gardens to look at all of the different street shops and pick out some souvenirs for our friends and families. We also took a look at the Earth God Temple near the Gardens in between shopping. We had so much fun experiencing even more of China's exciting culture! Looking forward to another beautiful day in the neighborhood!
Casey Fuga, Saint Vincent College Senior, Early Childhood Education Major/Children's Studies Minor