Together, We Succeed.
5 Tips for Pre-Med Students Shadowing Physicians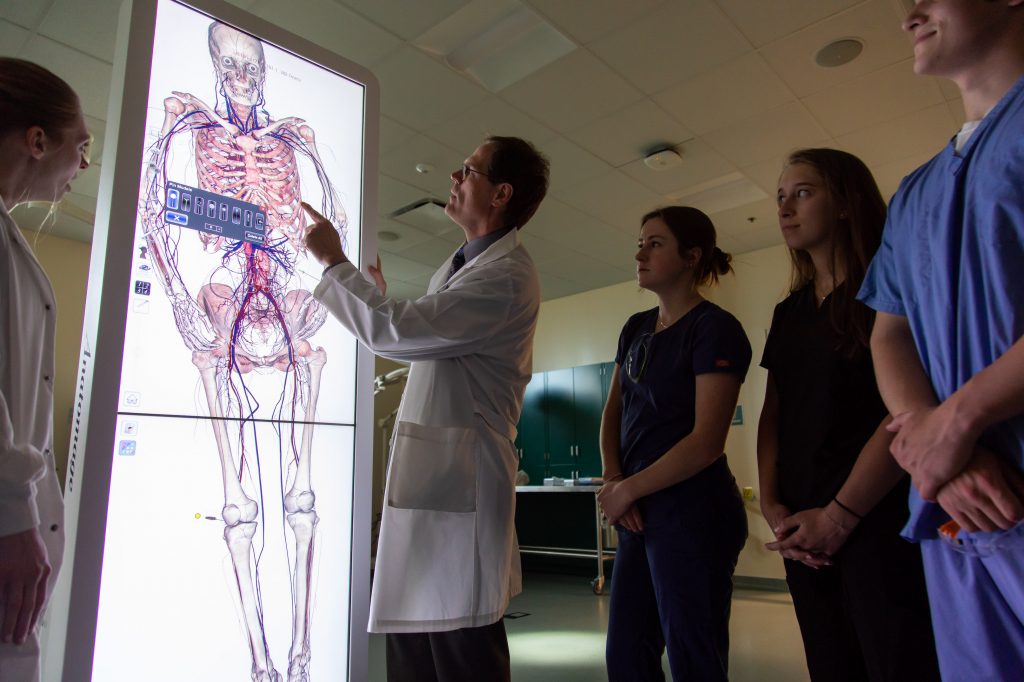 Making the decision to go to medical school is a big one. Before spending a great deal of time and brain power on the application process, it's worth being sure this is the career path for you. Medical schools and your pre-med advisor recommend shadowing a physician (in fact, several) to see if this is the kind of work you'd like to do, and because doctors themselves have all been through this process, many are open to letting you shadow them to see what it's really all about.
According to US News and World Report, many medical school admissions committees "take these experiences seriously and may be concerned if a student lacks evidence of a shadowing experience" on a medical school application. Med Schools want to know the applicant is committed.
Whether you're sitting in on a surgery, shadowing a primary care physician or any kind of medical professional in between, it's important to maintain a professional environment when you're shadowing. Below are five tips for shadowing physicians to help you start building your professional network and truly get the most out of your shadowing experience.
Plan ahead.
Arranging the experience is a big first step, but because shadowing is a common practice, most offices understand it and are open to providing the experience. How you approach shadowing opportunities depends on the opportunity you're pursuing – whether it's a solo practitioner or within a large medical system. Sometimes it just takes writing a cold email, introducing yourself, and being open about your goals.
Don't forget to use all of your resources at school. Whether it's your Chapter of the American Medical Student Associationor thePre-Allied Health Club, like Saint Vincent's, your pre-med advisor or an older pre-medicine student, the networks around you are filled with people who have done this before, and who want to help.
Once you do secure your shadowing experience, be prepared. Research the physicians you'll be following, their specialties, and what it takes to get there. Come ready with questions, and keep your appointments.
Put yourself in the doctor's shoes.
While you're in each physician's work environments, remember to take a step back every now and then for introspection. Ask yourself important questions – Can I see myself here? How do I feel about this situation?
A few questions University of Washington Medical School recommends you ask yourself, include:
Can I see myself doing what this doctor does on a daily basis?
Can I see myself as a colleague of this doctor?
What are the joys and frustrations of this career?
How do I feel when there is no "cure" or treatment option?
How do I feel about chronic problems compared with acute problems?
How do I feel when I see patients who don't listen to advice or who don't take good care of their health?
Importantly, take a notebook with you to write down your thoughts immediately after each visit (although don't take notes while you're in a room with a patient). That way you can look back on the ideas and thoughts when they are no longer fresh.
Respect the privacy and desires of each patient.
One of the most important steps to a successful physician-patient relationship is trust, and a patient must know his or her privacy is respected.
In order to maintain privacy, the Association of American Medical Colleges (AAMC) writes, the doctor is "required to introduce you to each patient and explain that you are a pre-med student." Know that some patients might decline having you in the room for part of or all of your appointment. Respect this desire, as issues of health and treatment can be some of the most personal issues there are. Others may be very open and ask you all kinds of questions about your career plans. In either case, respect each patient's privacy. You may have to sign a HIPAA document as well to ensure your confidentiality.
Maintain professionalism at all times.
Be your best self in how you dress, how you interact with the doctors, staff, and patients, and how you follow up.
The AAMC recommends you "dress professionally and comfortably: dress pants and a tie for men, dress pants or a dress for women, and closed-toed shoes you can walk in all day." Remember to check with the office in advance to see if there is another specific way you should dress. For example, if you're shadowing a surgery, you might need scrubs.
Also, stay alert and be mindful of the specific rules of the hospital or practice. These can be gleaned from signage or by following what the doctors and staff do. For example, when a doctor washes her hands upon entering a room, make sure you do the same. Keep your distance, and act as a 'fly on the wall' unless you're instructed otherwise.
The shadowing experience organization Atlantis writes to remember the gravity of how you present yourself and treat others. "Even if the physician is not present, he will likely be informed if you disrespect a member of the healthcare team or even a receptionist at the front desk. Do what you can to show respect to all members of the workplace. Everyone with whom you interact is as important as the physician. You are a student and a guest in the workplace. Show respect in the same way you wish to be respected."
Along these lines, remember to write a thank you note for your time. AAMC notes to ask for a letter of recommendation right away if you think the experience went well and you want one. Doctors are busy. Thanking them and asking for recommendations immediately helps to ensure you won't be forgotten.
Keep an open mind
Take a step back and plan out what the ideal shadowing experiences look like to you. Set goals and write them down. Also, plan what kind of specializations you want to review, and importantly, be open to those that you might not have considered. You might surprise yourself!
Shadowing is your chance to test areas you might not think are right for you, but you could be wrong. Atlantis recommends asking the doctors you're shadowing how they found their specialty, and if it was always what they wanted to do. These types of questions might give you an idea of an area you hadn't yet considered.
"Asking these questions may open the door to a networking possibility. Remember that doctors have colleagues practicing in many different fields; you may be able to access the contact information of someone in a specialty that interests you through your relationship with your shadowing physicians. Even if this is not the end result of your conversation, you can begin to think about fields with which you have been unfamiliar until this point."
Saint Vincent's pre-med students are guided by a Preprofessional Health Committee, who comprise of several faculty and a physician. The Committee serves to advise students about coursework, clinical exposure, service activities, leadership roles, entrance examinations, applications and interviews. They provide one-on-one help, and have a range of experience to ensure all of your experiences, including those in shadowing, are worthwhile.