Together, We Succeed.
Criminology to Law School: The path of an SVC 2020 President's Award Recipient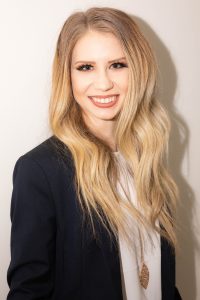 Jessica Gibbs — criminology, law and society major — was the recipient of the 2020 Saint Vincent College President's Award, the most prestigious award presented to the member of the graduating senior class. While Gibbs intends to pursue a master's degree in criminology at Saint Vincent next year, her long-term plan is to attend law school.
The path from criminology to law school is not uncommon. In fact, according to the Law School Admission Council (LSAC), one of the most popular undergraduate majors among law school applicants is criminal justice or criminology.
Studying criminology offers many benefits for those considering law school. For one, students gain introduction to law, exposure to court proceedings and the corrections system. At Saint Vincent College, the Criminology, Law and Society Program gives students a solid foundation in the theoretical core of criminology, a thorough understanding of the legal system and a broad, societal context for the criminal system. The program also offers courses in research and writing which can help students develop the skills they need to succeed in law school.
However, the criminology path to law school may not be right for everyone. The American Bar Association (ABA) underscores the importance of skillful, written communication for those preparing for legal education. According to ABA's website, "language is the most important tool of a lawyer, and lawyers must learn to express themselves clearly and concisely." While there is no single major that ABA recommends as ideal, ABA does highlight critical skills students should develop in preparation for law school including problem solving, critical reading, writing and editing, oral communication and listening.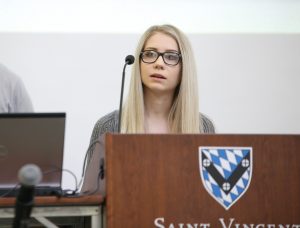 While many of these skills are part of a criminology degree, some skills — problem solving for example — may not be as central as in other majors — like economics. Law school applicants majoring in economics are among the most likely to be accepted to law school and generally tend to have the highest LSAT scores. Students who have chosen to study majors like criminology or criminal justice and wish to pursue law school can work on developing critical skills not only through their bachelor's degree but also through experiences and learning opportunities outside of classroom such as internships.
For example, Gibbs has completed internships with the Westmoreland County Public Defender's Office and with Adelphoi Village, where she worked with adjudicated, incarcerated juveniles. Her service to Saint Vincent and the local community, particularly for the poor and marginalized in our society is one of the reasons for her recognition. The President's Award is given to a graduate who best represents the Catholic, Benedictine liberal arts and science college values including outstanding academic achievement, student leadership and community service.